The key to a healthy life is physical activity from a young age. Young children need regular, vigorous, physical activity to develop and grow properly, as well as reduce the risk of disease. Physical activity helps develop your child's movement skills, keeping the body strong and healthy! It also strengthens bones, muscles and the brain, establishing connections between them all.1,2
Physical activity also improves focus, school performance, sleep and energy levels and most importantly, it builds a healthy heart and helps your child keep a healthy body weight.
From the age of 4, children have greater coordination and strength, allowing them an increased variety of sports and physical activities that they can choose from:4,5
References:
Why Active Play Is So Important. Available at: https://www.cbc.ca/parents/learning/view/why-active-play-is-so-important Date Accessed: April 2021.
Caring for Kids. Physical activity for children and youth. Available at: https://www.caringforkids.cps.ca/handouts/physical_activity Date Accessed: April 2021.
Physical activity: Benefits of exercise for health and wellbeing. Available at: https://www.aboutkidshealth.ca/Article?contentid=641&language=English Date Accessed: April 2021.
6 Activities for children from 2 – 5 years old. Available at: https://eresmama.com/6-actividades-fisicas-para-ninos-de-2-a-5-anos/ (translated) Date Accessed: April 2021.
The best children's sport by age. Available at: https://www.guiadelnino.com/educacion/consejos-de-educacion/los-mejores-deportes-infantiles-por-edad (translated) Date Accessed: April 2021.
Kids and Exercise. Available at: https://kidshealth.org/en/parents/exercise.html Date Accessed: April 2021. Sub Tab for "Healthy Growth".
Recommended Articles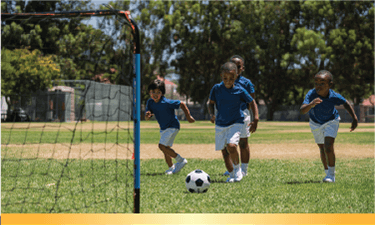 Discover if your child's growth is on track


Recommended by parents, approved by picky eaters.
Parents and children recommend PediaSure® for its delicious flavor, ability to incorporate it into yummy recipes, and the 27 vitamins and minerals that help keep children strong and active.
My son's appetite has improved and he has gained a few kilos ever since he started using Pediasure and it tastes so good.
Palesa - 07 Oct 2023
A very trusted friend of mine who is a professional health practitioner recommended this product for me. I trust her with everything I have so I bought it. She says it has Omega 3 that helps with brain function of a child.
Zine - 30 May 2023
My 3 yr old who does not like food absolutely loves this. I pack it in her lunch box everday. It's a winner
Eleanor - 13 Sep 2023
My kiddo loves this and very few shops stock it so grateful that TakeaLot has it in stock.
Rudi - 17 Aug 2023
Very good product to help child grow physically and mentally. Highly recommended
MJ - 24 Aug 2023
Love Pediasure, my kids are crazy about it. Definitely my go to when my kids don't eat well.
Monique - 01 Aug 2023
A nutritional supplement to help your child grow
When it comes to nutrition, we all want the best for our kids. We all know exactly what they should be eating but getting three balanced meals into your little one isn't always easy.
Maybe they're going through a fussy phase or feeling poorly or always on the go. Maybe they're no longer fooled by your enchanted forest of little broccoli trees.
Therefore, it is important to have nutritional support that can provide your child with the essential nutrients, for when they are not getting them, for whatever reason, in their diets.
PediaSure® has the building blocks your child needs to grow. It is a clinically proven child nutritional supplement and a source of ESSENTIAL NUTRIENTS for growth and hard-to-feed concerns.
Supports
Immunity
When your child's defenses are put to the during change of seasons, it can be useful to supplement their diets with essential vitamins & minerals. PediaSure is high in Vitamin D, source of Vitamin C & A to help keep children strong and active.


Proven to improve
appetite
With PediaSure® every mom has an ally to rely on when there are picky eaters at the table. Try it for breakfast or as a healthy and tasty snack.


Join our family!
Sign up for our email list to discover fuss-free recipes, nutritional information & so much more!
Subscribe