What is PediaSure?
PediaSure is a clinically proven nutritional supplement drink for children to support growth and development†. It contains a unique blend of protein, carbohydrates and essential fatty acids, enriched with essential vitamins & minerals to help keep children strong and active, improves appetite and to help support their immune systems.
Whether your child is going through a fussy eating phase or feeling under the weather, you may worry they are missing out on essential nutrients. PediaSure is here to support your child through their most critical ages, when 70% of their growth occurs.
Try it

Source of vitamins and minerals
Helps to improve appetite
High in Vitamin D
An important vitamin that is essential for maintaining strong bones and teeth
Source of Vitamins C & A
Vitamin C is an important antioxidant that also helps with bone formation and the absoprtion of iron. Vitamins C & A help keep children strong and active.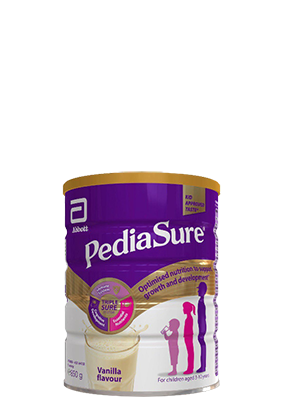 Source of Protein
A building block for your child's bones, muscles, skin, and blood, protein plays a vital role in physical growth and in many bodily functions.
High in Energy & Omega-3
Supports growing children
TRY PEDIASURE 3+ for growth you can be sure of!
Start to see visible growth in 8 weeks¹ and maximise your picky eater's growth potential with PediaSure® 3+.
PediaSure 3+ Powder

Our Kid Approved Taste drink powder is available in 2 flavours; Vanilla and Chocolate. Vanilla comes in 2 sizes 850g and 1.6kg. Try it as a milkshake style drink at home or add it to your child's food with one of our tasty recipes.
Buy Now

PediaSure 3+ Ready-to-Drink

Our ready-to-drink pack is great to support your child's nutrition at home and on the go. The ready-to-drink pack comes as a single serve and portable pack which provides a convenient way to ensure your child gets the necessary vitamins & minerals they need to grow.
Buy Now


Join our family!
Sign up for our email list to discover fuss-free recipes, nutritional information & so much more!
Subscribe