5 tips for a calm bedtime routine
We know it's difficult to get your children to fall asleep at the best of times, but if they're excited about a special event such as Christmas Day or a birthday, it can be an extra big challenge. But fear not, we've got some top bedtime tips for you at Christmas, and throughout the year, to help you get your little elves off to the Land of Nod.
It pays to plan ahead.
Whether it's Christmas Day, a birthday or other special event, your little one will enjoy it much more if they've had a good sleep the night before. That may take a little bit of planning but it will be worth the effort. Making the morning physically active and getting your little ones outside to exercise will burn off energy and tire them out1. In the late afternoon, start to wind them down with a family movie or a board game. After a nutritious supper, (check out some great recipe ideas here) make things even slower and more relaxing to prepare them for bedtime. If your child is able to tell the time, agree on a wake-up time for the next day.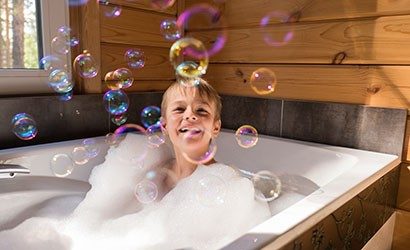 Create a calming bedtime routine.
This is good practice throughout the year. A regular pattern of quiet activities before bedtime can really help your child to sleep2. These could include: a warm bath before bed with lots of bubbles, playing relaxing music as they get ready for bed, or reading a soothing story in a cosy chair under a soft or weighted blanket. Keeping lights dim is also a good way to prepare your child for sleep.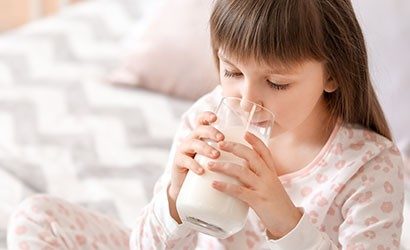 Avoid fizzy drinks or a large meal close to bedtime.
Leave the late-night mince-pie munching to Santa! Giving your little one lots of snacks or a large meal just before bedtime can prevent sleep1. Many fizzy drinks contain caffeine which is a stimulant so it is best not to give these after lunchtime. Milk can help your child settle1, so try a healthy snack about an hour before bed. Why not try a snuggly hot chocolate enriched with PaediaSure Shake?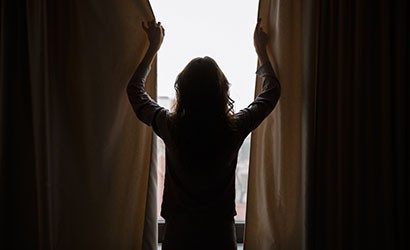 Try to keep your child's bedroom quiet and calm2.
New toys are very exciting but if your little sleepy head is likely to be distracted by them at bedtime it is probably best to remove them from their bedroom. Keep their room quiet and exclude outside light with thick curtains. A hot room can also be hard to sleep in so try to keep the temperature between 16ᵒC and 20ᵒC.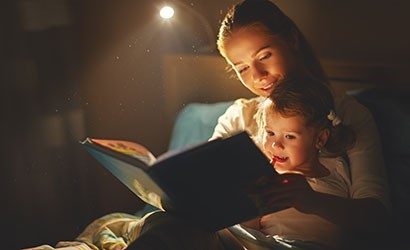 Switch off technology at least an hour before bedtime.
Of course, kids love some down time in front of the TV or iPad, but screens can have a negative impact on your child's sleep1. By creating a technology-free environment at least an hour or preferably two hours before bed, you can help to create a sleep-friendly zone. It's best to remove technology from your child's bedroom at bedtime too. Why not try a bedtime story (or two or three) instead? It will help your little one nod off nice and early, ready for the day ahead.
Bibliography
1 Great Ormond Street Hospital June 2020 https://www.gosh.nhs.uk/medical-information/procedures-and-treatments/sleep-hygiene-children Accessed 9th November 2020
2 NHS, October 2020 https://www.nhs.uk/live-well/sleep-and-tiredness/healthy-sleep-tips-for-children/ Accessed 9th November 2020

Recommended by parents, approved by picky eaters.
Parents and children recommend PediaSure® for its delicious flavor, ability to incorporate it into yummy recipes, and the 27 vitamins and minerals that help keep children strong and active.
My son's appetite has improved and he has gained a few kilos ever since he started using Pediasure and it tastes so good.
Palesa - 07 Oct 2023
A very trusted friend of mine who is a professional health practitioner recommended this product for me. I trust her with everything I have so I bought it. She says it has Omega 3 that helps with brain function of a child.
Zine - 30 May 2023
My 3 yr old who does not like food absolutely loves this. I pack it in her lunch box everday. It's a winner
Eleanor - 13 Sep 2023
My kiddo loves this and very few shops stock it so grateful that TakeaLot has it in stock.
Rudi - 17 Aug 2023
Very good product to help child grow physically and mentally. Highly recommended
MJ - 24 Aug 2023
Love Pediasure, my kids are crazy about it. Definitely my go to when my kids don't eat well.
Monique - 01 Aug 2023
A nutritional supplement to help your child grow
When it comes to nutrition, we all want the best for our kids. We all know exactly what they should be eating but getting three balanced meals into your little one isn't always easy.
Maybe they're going through a fussy phase or feeling poorly or always on the go. Maybe they're no longer fooled by your enchanted forest of little broccoli trees.
Therefore, it is important to have nutritional support that can provide your child with the essential nutrients, for when they are not getting them, for whatever reason, in their diets.
PediaSure® has the building blocks your child needs to grow. It is a clinically proven child nutritional supplement and a source of ESSENTIAL NUTRIENTS for growth and hard-to-feed concerns.
Supports
Immunity
When your child's defenses are put to the during change of seasons, it can be useful to supplement their diets with essential vitamins & minerals. PediaSure is high in Vitamin D, source of Vitamin C & A to help keep children strong and active.


Proven to improve
appetite
With PediaSure® every mom has an ally to rely on when there are picky eaters at the table. Try it for breakfast or as a healthy and tasty snack.


Join our family!
Sign up for our email list to receive a R50 off coupon for PediaSure 3+ to be used at your selected retailer.
Subscribe