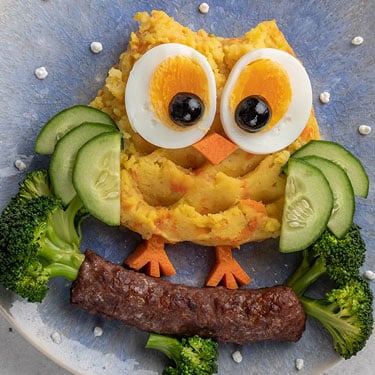 Marvelous Mash
Marvelous Mash
Did you know you can use PediaSure® Vanilla to make up extra-nutritious fluffy mash? How about trying this jolly owl decoration? It's a great way to tempt your child to try some new flavours without ruffling any feathers. We used sliced boiled egg and half an olive for the eyes, cucumber slices for the wings and we carved some carrot for the beak and feet. What a hoot!
Makes 4 large servings of mash.
Method:
Boil potatoes and sweet potatoes in different saucepans until cooked.
Drain the potatoes and mash while they're still hot.
Mix the cream and PediaSure® Vanilla powder until well blended.
Add to the mashed potatoes, along with the butter and pepper.
Mix until combined, but be careful not to over mix!
Serve immediately with some tasty, juicy sausages and steamed broccoli. Enjoy!
Ingredients
2 scoops* of PediaSure® Vanilla flavour powder
250g of potatoes, peeled and quartered
160g of sweet potatoes, peeled and quartered
A pinch of black pepper (to taste)
55ml double cream
30g butter
Contains allergens: milk, soy

Join our family!
Sign up for our email list to discover fuss-free recipes, nutritional information & so much more!
Subscribe

Discover New Recipes